Quo Magazine has interviewed Esteban Granero, CEO of Olocip, where he talks about the beginnings of the company and what makes it different in the market.
When he was little he never collected stickers from his idols. He left that for the posters he had in the room. There were only two of them. One of Maradona muddy with the ball and the other is Zidane. His name is Esteban Granero and he is now a member of the RCD Espanyol in Barcelona. He is nicknamed 'The Pirate'. "I don't take that away from him anymore", he confesses with a smile while we photograph him.
He has played for Getafe, Queen Park Rangers, Real Madrid and Real Sociedad. If he wasn't a footballer, he would have dedicated himself to architecture. Already in the school playground he occupied the position of midfielder which he has retained all his life. "It was where there were more possibilities to have the ball," he says quietly. The midfielder requires intelligence to control the space / time of a match and that has motivated him to such an extent that he wondered if a machine could do the same as him with the ability to predict the movements of the opponent. Thus was born his artificial intelligence (AI) company Olocip located in Madrid.
Q: What was it like when you decided to become a footballer?
A: I remember it fondly and had never explained it until now. My brother and I were going to play football in the park, in Casa de Campo in Madrid. By the side of the road there were chalets and also a plot with very nice views. My brother told me: "when you become a Real Madrid player, we'll buy the plot and we'll make ourselves a house for both of us". I remember that moment as a turning point in my life. I had to play for Real Madrid to fulfill my brother's request. Well, I got it, we bought the land and we're building a house for both of us.
Q: That's where your professional career began?
A: Yes, from the age of 8 to 18 I was in the lower divisions of Real Madrid, overcoming filter after filter. I remember that they were very hard. I arrived to Castilla and then I went to Getafe, to return to Real Madrid years later.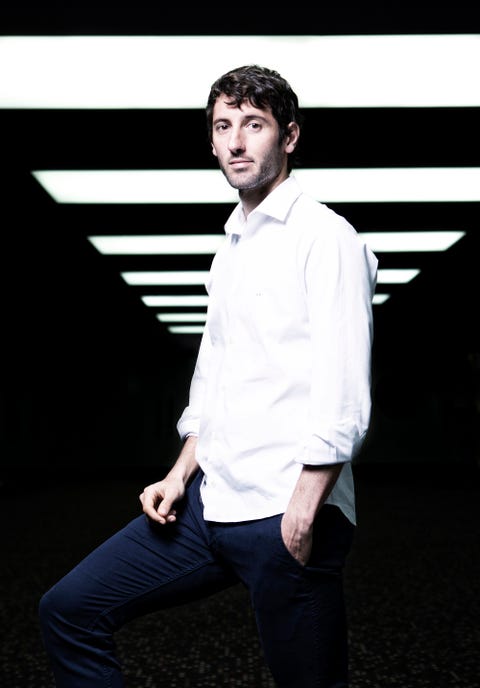 Shy or, better yet, discreet. With a low tone of voice, precise in what he says, interested in doing something in the world that leaves a good mark.
Q: You have also played in the under 21 selection and this year you have been part of the QUO Scientific National Selection.
A: Yes, I would like to take this opportunity to congratulate the magazine because on the evening of the event I had the opportunity to meet very interesting people. An example would be José María Ordavás, who is carrying out genetic studies applicable to the topic of injury prevention.
Q: Why did you decide to found Olocip?
A: As a footballer you realise that you live with some deficiencies that could be corrected thanks to the use of new technologies. This new main actor, Artificial Intelligence, allows us to build more efficient and useful solutions for professionals.
There are first division clubs working with our artificial intelligence solutions.



Q: One of those solutions would be your artificial intelligence, with the ability to predict the future. How do you get that?
A: First we have to get into the matter, and for that I will use chess. Up to now, the mechanisms that machines have to interpret human intuition have been underestimated, and they have been treated as mere calculation tools. This has changed today. Artificial intelligence is demonstrating a great capacity to develop complex and predictive tasks, which allow any person or calculus machine to win on the board.
Q: That is to say, for your artificial intelligence project in Olocip you have used the experience accumulated in chess.
A: At the beginning we thought about defining the different situations that are generated in a football match. We had to be clear about the variables of any play. Let's think that, in the end, in a match, there are two teams that oppose each other with the idea of finding the advantages over one another. That's when we realised that chess concepts like 'initiative' could be applied to football.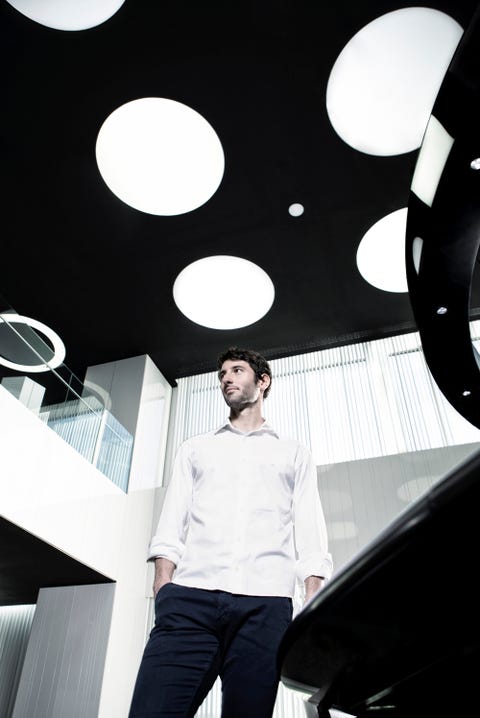 Q: Can you elaborate more in detail?
A: It is the number of opportunities you have to generate threats, attacks on the rival. Knowing who has the initiative at a decisive moment in the match can help you define what you are failing to avoid a goal. Another important concept in chess is the 'overloaded piece'. It is a piece that defends itself against several opponents at the same time. A bad movement of this piece could expose a vital space, which would take advantage of the opponent with numerical superiority.
Q: That taken to football, it would be a pending defense of two strikers.
A: Correct. Here the defender has the problem of also being overtaken by the superiority of the opponent.
You can know how a player's future performance will be, how he will adapt to the league, the team, etc.
Q: You maintain that, in football, concepts such tactics and strategy are poorly defined. For AI to be predictive, these must be clear.
A: Yes, the strategy in football is not to think of a concrete play when taking a corner kick or a free-kick. It's something quite different. It's about knowing your opponent's strengths and weaknesses to plan the domination of a part of the pitch, to open attacking zones for a period of time. On the contrary, the tactic is limited to actions of 3 or 4 passes, actions that resolve a specific situation and last seconds. The strategy is a long-term plan, based on inherent strengths and weaknesses of the opponent and yourself.
Corners, etc., are set-ball actions.
4-3-3 is a game system.
Q: Okay. Once you have defined football well, what data is entered into your AI?
A: First, we tell you where to focus your attention, taking into account the number of passes, how many times the orientation of the game changes, shots, assists, space control, effective verticality… There are more than 150 variables. The machine interprets all these raw data mathematically, and links them together with the 800 matches in our database.
We have 800 recorded matches that give our machine the necessary knowledge about football.
Q: Where do those 800 games come from? How were they chosen?
A: These are files that we have bought and previously selected, because we understand that these matches are what give our machine the general knowledge about football that it needs. These are matches from different leagues and competitions around the world, such as the Champions League or World Cup.
Q: And how do you do it?
A: At the top of a football stadium, several cameras are placed to focus attention on the players. Using artificial vision, they recognize each player and his position on the field about 6 times per second. At the end, all this information is recorded in a file that contains the position of all players throughout the game.
Q: And those cameras are yours?
A: No. We have a data provider that installs them, and many football clubs hire their own camera placement services as well. We intend to continue with our supplier until we have developed our own technology.P
Q: What will they bring again?
A: Right now, data (events) are obtained manually. That is to say: there is a person in charge of writing down all the events that happen on the field of play. We are going to automate all this using our artificial intelligence, and Olocip's team is a pioneer.
Q: And how is it possible for an artificial intelligence to know the exact moment when a shot or a deep pass occurs?
A: The machine has a large data file, where all door shots are logged, and we have taught you to recognize them. On that basis, it is capable of discovering patterns hidden from the human eye, which indicate that certain events are occurring automatically and are therefore recorded.
Q: Imagine that I am an executive of Barça or Real Madrid and I contact you to contract the services of Olocip. How would you act?
A: First, we would install the cameras, as I was telling you about before the game started. It's very easy to install them. You can even take them with you when you play away from home. Once they're in place, our TCT Coach software feeds on everything your team and your opponent do. Based on the 'intelligent training' we've provided, I predicted, in real time, the odds of scoring a goal and setting any other goal you want. Your team coach may decide he just wants to defend or just attack or do both at the same time. That's what you ask of the machine. In addition, the coach also selects the instructions that he wants the system to be able to return to him. For example, just knowing and attacking from the inside or outside is the best way to score, or just knowing if pressing higher or lower is better to have more possession in the next few minutes…
Q: What is the program's margin of error?
A:To give our model the value it deserves and prove that the predictions are accurate, we make scientific calibrations. Of the 800 matches in our database, we reserve 100, which are the ones that help us compare the predictions and what happens in the match. Cross validation, this is the name of this process, which is repeated countless times in order to make the most of the matches we have, at the same time that we carry out a totally honest validation.
Q: What specialists work on your AI?
A: I have two partners named Pedro Larrañaga and Concha Bielza, both professors at the Universidad Politecnica de Madrid (UPM). Pedro Larrañaga has recently been named 'Fellow of the Academia Europaea', a very prestigious distinction. For his part, Concha has won several research awards. They lead an IA modeling and development team.P
Q: How many clients do you already have?
A: Several, but I can't mention them. They prefer to remain anonymous. We have a confidentiality agreement with all of them. Yes, I can tell you that there are first division football clubs, high performance centres and sports academies. So far, we have only been involved in research. Despite this, there have been people who have found out what we do and have asked us for information. The development of the business of our artificial intelligence has just begun.
Q: Let's imagine that both Real Madrid and Barça make use of your artificial intelligence in the Classic. What happens there? 
A: We didn't create an oracle capable of telling us who is going to win the match. Ours is a helping solution that has eyes and a memory that everyone lacks. The trainer's use of our AI is up to him. He sets the objectives. There are clients who ask us, for example, for variables such as dividing the field into corridors to know the odds of scoring goal, or whether to attack by the center of the field or by the bands.
Q: Can your AI be used in training?
A: Yes. It is used for injury prevention. Here we use variables such as the distribution of forces in the legs, elasticity of the body, mobility, blood and gene analysis, nutritional tests, injuries historic data… With all that volume of information we can predict what the player's state is in the face of a possible future injury. To make the measurement understandable, we set a scale from 0 to 10.
Q: I understand that if the machine tells me I'm at level 7, my risk of injury is high.
A: Correct. In that case, you should considerably reduce the pace of training. Being transparent models, you would not only know your risk of injury, but also the variables that negatively affect your risk and how to correct them (if possible).
Q: And who enters that information?
A: The members of the club's medical team. In addition, there are data that are updated on a regular basis, such as blood tests. These are done three times a year. On the other hand, the physical trainer also enters the daily training data of the players.
Q: How does the physical trainer get them?
A: Soccer players always carry with them a GPS device, which records all the physical activity we generate in training. The information files go directly to our AI. The GPS are not ours, they belong to the club.P
Q: All that information is valuable. Who owns it?
A: This point is sensitive and we give it a lot of importance. We are just dealing with information. From a legal point of view, the player is the owner of the data and we sign a contract with our clients on how to deal with them. We also have an external company and an employee here at Olocip to control the issue of computer security.P
Q: Can you really predict a player's future performance?
A: Imagine that you are an Espanyol manager and you want to hire Sergio Canales or a player from the Ukrainian league. To sign him, you don't want to know what his performance was last season. You're interested in his future performance, how he's going to adapt to your league, the team, the teammates. That's why it's vital to put the player in context, and that's exactly what our artificial intelligence does. For this type of predictions, more than 200 variables are taken into account and the player's data from the last five years are collected. The evolution of the player over time is studied.P
Q: And if artificial intelligence makes mistakes, does it have the ability to correct itself?
A: Yes, and the more data you enter into the model, the more you will learn.P
Q: If it turns out that the model works so well and knows how to correct itself, then there will be no need for coaches or computers, will there?
A: The figure of the coach is fundamental. We only provide a decision support tool to efficiently use the data that can be extracted today. Our IA is the third coach of the team, assistant of sport direction or assistant of the medical team. Nothing more… and nothing less! P
Q: With what you're learning in Olocip, you can now question your coach.
A: That's not good business. It's always best to agree with him [laughs]. The coach is a great defender of his intuition. Also, mine at Espanyol is very methodical and takes everything into account. I've never told him anything about what we do in Olocip. I don't like to mix my professional career with what I do outside of it. If someday he will interested, I'll tell him.
Q: You are involved in an artificial intelligence project and footballers are not known to be too intelligent. You're breaking a lot of clichés.
A: Yes, I know we have a bad reputation and many times we earn it. It's also true that I know players with great abilities and concerns. We have to be aware that we're an example for a lot of kids. With Olocip, I do what I like, and I learn.P
Q: Have you asked your artificial intelligence how many years you have left to play as a footballer?
A: Sure, that was the first thing I did. When you reach 30 or 31, the image that a footballer conveys is that he no longer has the same ability to run as a 20. But I can tell you that the machine doesn't value my age so negatively, far from it. P
Q: Well, you can wield that to your coach. You'll be able to show him the data that artificial intelligence provides.
A: Of course. He thinks that our customers include agencies. Predictive information about where your players could play best is one more argument to present to a club manager. We already have success stories.P
Q: Could your predictive intelligence also be used for online gambling?
A: Yes and it would be a good way to show that our system works efficiently, but we don't do it. We're cautious about that. At Olocip we only focus on performance applied to football.P
Q: Have you tried it?
A: Step word [Laughs]